Show Racism the Red Card Ireland met with international partners from 7 different countries in Helsinki this week.  The meeting took place as part of a partnership funded by the European Union Erasmus + programme, which is administered by Leargas in Ireland.
The partnership is a strategic partnership led by Show Racism the Red Card (SRTRC) Ireland and involves SRTRC UK, RodeKaart Netherlands and the Players Unions of Denmark and Finland.  We were also joined by the anti racism education projects of the player unions from Norway and Iceland and supported by the World Players Association- FIFPro.
Discussions took place on anti racism education taking place in different countries.  Updates were given on current work and new iniatives.
Iceland
The players union have taken the initiative to set up Show Racism the Red Card (SRTRC)  and an initiative they have is the 'challenge', whereby players make videos of themselves with the cards and challenge other players to do the same.  They have involved the Captain of the Icelandic football team and stars from other sports including Olympic Handball in backing the message of Show Racism the Red Card.
Netherlands
Hubert updated the meeting on how SRTRC is becoming a part of clubs through poster campaign.  A number of clubs have taken part.  The project is now in partnership with an NGO to deliver anti racism education.  www.Radar.nl  http://www.rodekaart.eu/
Denmark
Mette advised that in the past the project did a lot of school visits.  Two years ago, funding stopped.  Since appointed by the Players Union,  Mette is examining possibility of restarting the programme with the union engaging players as ambassadors.
UK
Ged told the meeting of existing work and new initiatives.  The team of 40 deliver anti racism education workshops with schools in England, Scotland and Wales.  SRTRC also deliver teacher training. To promote engagement, the project run a creative competition which is successful.  New areas of work include adult education and a new initiative is the Wear Red Day.
Norway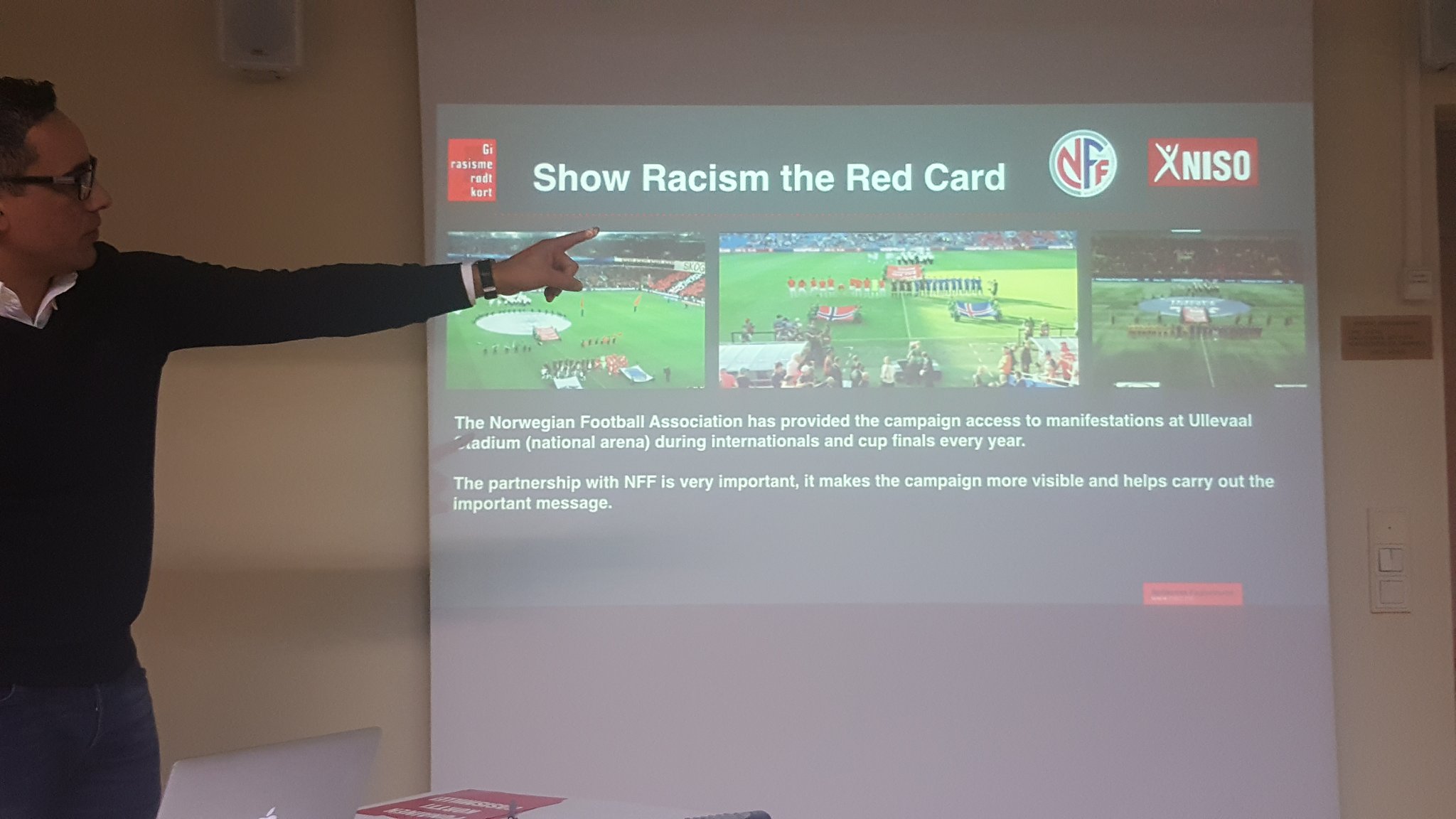 Peter Verni explained that he has been project manager with Show Racism the Red Card for seven years, but the project was established in 2002.  Now the SRTRC is a project of the Players Union. www.Niso.no
You can learn through play
Riku Alkio presented the Seppo project of Finland.  Riku is an experienced teacher and lecturer.  He gave an overview of Seppo and Finnish education.  Finland is known to have the best education system in the world.  Finland places the child at the centre of learning.  Some key features are that there is almost no testing in comparison.  It is harder to get into teaching courses at university than law.  Riku noted that there is a changing emphasis in education.  There is a shift to using ICT and the idea that education is a service not a building.
Young people are spending a lot of time on their tablets and phones.  Schools need to teach digital citizenship.  Riku and his colleagues have developed Seppo as an online platform which allows educators to develop games to promote learning.
During the session, we had the opportunity to try play the game and then actually to develop our anti racism games online. It was a really exciting aspect of this project and it is one we will be working to develop, so that not only will Show Racism the Red Card deliver training or workshops, but we will also deliver games to young people, who will play but learn about racism and its impact.
Seppo – http://seppo.io/en
Next meeting
The next meeting of the project will take place on 29-31st May in Netherlands.  It will involve the following:
Study visit to SRTRC work with club
Study visit to SRTRC work with school
Discussion with Fifpro about working together
Update on  Finnish Anti Racism game
Update on Partner Anti Racism training